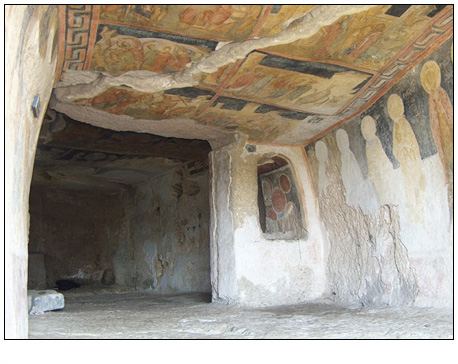 The rock-hewn churches of Ivanovo are situated just 20 km south of Rousse on the high rocky banks of the Roussenski Lom River. This significant monastery complex consists of about 20 medieval churches, chapels and cells with more than 300 rooms. The complex dates from XI-XIV c. and during the time of the Second Bulgarian Kingdom was an educational and spiritual centre with important meaning for developing of medieval Bulgarian culture. The monastery was supported by many Bulgarian kings. And it is believed that one of them- tzar Georgi Terter have spent the last years of his life here.
Ivanovo rock-hewn churches are unique because of their location (some of them are up to 36m above the river) and well-preserved medieval murals. The most interesting paintings could be seen in the church donated by the Bulgarian Tzar Ivan-Aleksander(1331-1371). They represent the Bulgarian capital at that time- Tarnovo and are a marvelous piece of art.
The rock –hewn churches of Ivanovo are included in the UNESCO World Cultural and Natural Heritage List.