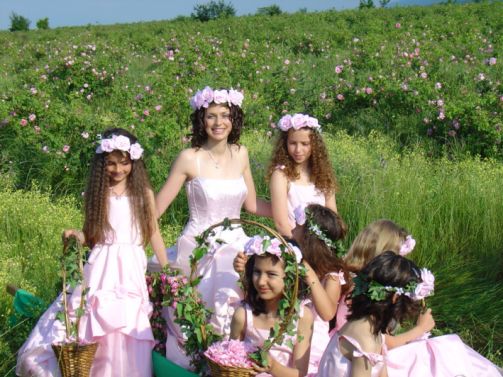 The Valley of Roses lays huddled between two mountains, almost in the middle of Bulgaria. Protected by Balkan and Sredna Gora mountains Bulgarian oleaginous rose has found the perfect place for its growing here. Mild winter, warm spring and people's loving cares have preserved the precious rose and nowadays each spring it is blooming all over the Valley, filling the air with marvelous scent.
A legend says that more than 400 years ago a young Bulgarian man went to the Middle East lands, accompanying and guarding a dealer's caravan. When they successfully reached Damask and the dealer's home, the tradesman paid generously the young man, but the most valuable gift he got was from the dealer's daughter. She felt in love with the handsome man and as a symbol of her love she gave him a rose. The young man carried the rose back home and planted it. Every year it grew and bloomed reminding him for the love of dealer's daughter. Very soon its splendid aroma spread all over the Valley. This rose now is famous all over the world.
Every year, in late spring, end of May - beginning of June the Bulgarian oleaginous rose blooms. It is the time of The Rose Festival. Bulgarian towns of Karlovo, Kazanlak and Pavel Banya become centers of the celebrations.
The Rose Festival was celebrated for the first time in 1903. Since then, every spring the tradition is kept. The Festival begins with rose-picking rituals in the rose gardens. The picking should start at dawn, before the sunrise and before the rose fragrance had a chance to disappear. After follows the rose- boiling according to the old Bulgarian traditions for making rose oil. The Rose Festival is accompanied with Bulgarian folk music and dances. One of its culminations is the coronation of The Rose Queen amidst the girls from the town, graduating high school in the same year. The celebrations fascinate all the people from the region and many tourists, which take part in a street parade with a lot of music, dances and joy.