Home»Do you know? »

A 9 million years old fossil of the horse chiparion at the museum
A 9 million years old fossil of the horse chiparion at the museum
A 9 million years old fossil of the horse chiparion was exposed on 20 of May 2011 at the history museum in Vratza, Bulgaria.
The fossil was on a piece of rock at the bottom of the sea.
The rock was found at 15 meters depth near Kamen briag in the Black Sea from scuba divers.

The horse hiparion had three fingers on the leg and each finger had hoof ungula.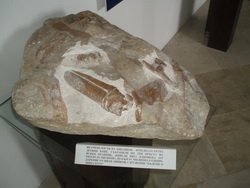 BOOK A TOUR » | BOOK A HOTEL » | BOOK A TRIP »