Home»Do you know? »

Altars of Thracians from 2000 years BC at Perperikon
Altars of Thracians from 2000 years BC at Perperikon
Nine altars of fire rituals of the ancient Thracians from 2000 years BC were discovered near Perperikon, Bulgaria. These altars were huge rocks, cut by side. The tourists of tours of Bulgaria can see them.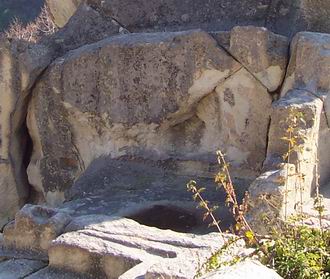 These altars of the ancient Thracians had round shape with a thickness of about 1.5 meter, of the type bomos that connected them with the great Cretan culture.
Some archaeologists believed that the Cretan culture has infiltrated in the lands of Bulgaria from the island of Samothrace, Greece, which is only 80 kilometers in the straight line south of Perperikon.
BOOK A TOUR » | BOOK A HOTEL » | BOOK A TRIP »