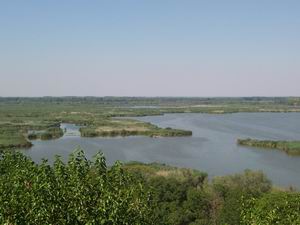 Srebarna is a nature reserve situated in northeast Bulgaria. It is near the city of Silistra and it lies on the bird migration route between Europe and Africa. The reserve consists of a lake named Srebarna and its surroundings. The total of protected area is 6 km².
Srebarna reserve is a home of 67 plant species some of which are in danger of extinction outside the reserve. A wide variety of animals exist in the area too, but this nature reserve is the most famous for the 179 bird species that nest on its territory - the Dalmatian Pelican, The Mute Swan, the Marsh Harrier, the Cormorant and others.
There is a legend about reserve's name Srebarna, which means "silvery". People say it comes from the silvery reflections on the lake's surface during full moon.
Srebarna Nature Reserve is included in UNESCO's World Heritage List in 1983.