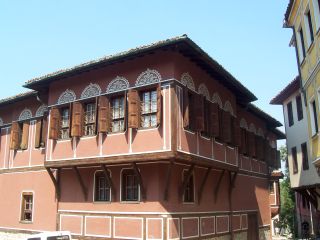 During the time of the Ottoman rule the name of the city became Filibe and most of it was destroyed. In the times of the Revival period Plovdiv regained its fame as a prosperous trade and cultural center.
There are many cultural and historical sites in Plovdiv left from its glorious days: the ancient stadium who could hold 30 000 people, the ancient agora (forum), the Roman theatre, Roman mosaics which decorated the Roman houses from IV-V c. A.D.
A sightseeing tour of Plovdiv includes walking in the Old town which is like an open-air museum and keeps the spirit of the Bulgarian Renaissance city life. There are more than 150 houses- monuments of culture, examples of Bulgarian XIX c. architecture. The most impressive is the Ethnographic museum, situated in a magnificent house of a wealthy tradesmen.