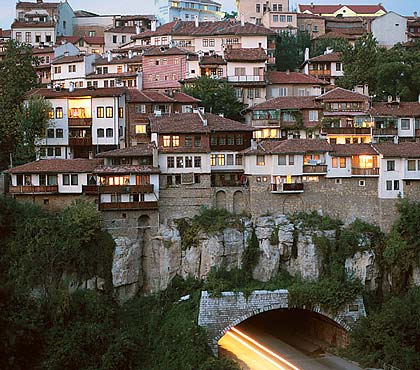 Sightseeing in Veliko Turnovo, one of the oldest cities in Bulgaria, is a must for each cultural and historical tour in Bulgaria. Veliko Turnovo has a very important place in Bulgarian history. Archeologists have found that there was an ancient settlement dated more than 4000 years B.C. It was a capital of Bulgaria in XII-XIV century and political, economical, cultural and religious center not only for The Second Bulgarian Kingdom but for the whole region of Medieval Southeast of Europe. The city was called "the third Rome", "the second Constantinople" and it was very developed for its time.
The medieval city of Veliko Turnovo was situated on three hills- Tzarevetz, Trapezitza and Momina Krepost and was surrounded by a long fortress wall. The most significant buildings were on Tzarevetz hill- the King Palace, the Patriarchal Palace and many dwellings and residences of Bulgarian medieval aristocracy. The Tzarevetz hill is one of the most famous historical and tourist sites in Bulgaria.
Veliko Turnovo had the fame of a sacred city and a centre of Christianity. There were 22 churches and 4 monasteries on the Tzarevetz hill, supported and donated by the Bulgarian kings. All those factors turned Veliko Turnovo city into a prosperous and famous capital of the Second Bulgarian Kingdom.