Home»Do you know? »

Restoration of the remains of the famous Red Church in Perushtitza, Bulgaria
Restoration of the remains of the famous Red Church in Perushtitza, Bulgaria
The Municipality of Perushtitza goes for conservation and restoration of the remains of the famous Red Church in Perushtitza, Bulgaria under the European project.
The information center building, the exhibition hall with photos and information texts and an alley for walking by foot for tourists of tours in Bulgaria are to be ready by the end of 2012.
The Red Church was probably built under Roman Emperor Anastasius I (491–518); it was originally measured 32 by 25 metres.
The eastern wall, the best preserved, reaches around 14 m in height.
It is believed the church was devoted to the Saint Mary the Virgin and it was later known as the Red Church due to the color of the bricks and red mortar between the bricks.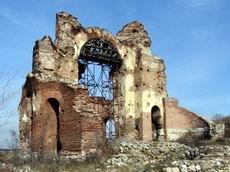 BOOK A TOUR » | BOOK A HOTEL » | BOOK A TRIP »