Home»Do you know? »

8th Ministerial Conference, supported by UNESCO, on Cultural Heritage on 24 and 25 of October 2012 in Sofia, Bulgaria
8th Ministerial Conference, supported by UNESCO, on Cultural Heritage on 24 and 25 of October 2012 in Sofia, Bulgaria
8th Ministerial Conference on Cultural Heritage in South-East Europe on the subject of Intangible Cultural Heritage and Sustainable Development was on 24 and 25 of October 2012 in Sofia, Bulgaria.
The conference, organized by the support of the UNESCO Venice Office, had the objective to reinforce regional cooperation on capacity-building and the exchange of knowledge and good practices,
in particular with regards to the UNESCO global initiative "Culture: a Bridge to Development". The conference offered the opportunity to discuss on the ways to streamline the different cultural cooperation platforms at the ministerial level existing in the South-East European region.
UNESCO Director General Irina Bokova said cultural heritage was one of the strengths of the region and wealth that should be shared with all nations. She added that various cultures and eras were entangled in Bulgaria and gave an example
with four temples of four different religions– a synagogue, a catholic church, an East Orthodox church and a mosque - in the center of Sofia which were located around antique Roman excavations.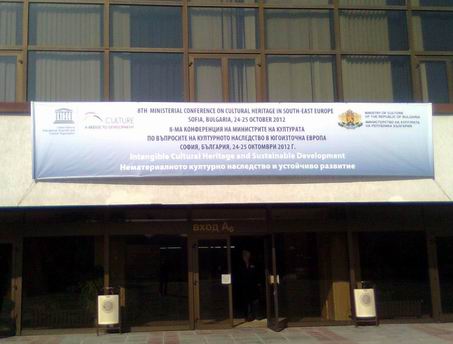 BOOK A TOUR » | BOOK A HOTEL » | BOOK A TRIP »