Home»Do you know? »

333 bagpipe players in a concert, of the Guinness Book of Records, in Sofia, Bulgaria on 16 of May 2012
333 bagpipe players in a concert, of the Guinness Book of Records, in Sofia, Bulgaria on 16 of May 2012
The Bulgarian National Radio www.bnr.bg reported about 333 bagpipe players wearing the same folk costumes in concert in the National Palace of Culture in Sofia, Bulgaria on 16 of May 2012.
The music of the Rhodope Mountain flies in space, features on the soundtracks of Hollywood movies and has now entered the Guinness Book of Records as Bulgaria has set a world record in bagpipe performance.
On June 19 arrived the official confirmation that this performance of the pipers has been recognized by the Guinness Book of Records.

Thus the Bulgarian bagpipers broke the previous record set by 240 Scottish bagpipes.
The musicians played for 9 minutes and 13 seconds, performing fragments of 8 Rhodope songs that made the nearly 4,000 spectators raise to their feet.
From ancient times until today it sounds at working bees, fairs, weddings, christenings
and its powerful sound is thrilling and heart-rending to every Bulgarian. This is the tenth Bulgarian record listed in the Guinness Book. But it is perhaps the most attractive - 333 bagpipes playing in unison.
The applause was so strong that at one point I could not hear the sound of the bagpipes. People said that they have never seen or heard such a miracle in their life.

"The fact that we were able to enter the Guinness Book of Records is a global recognition for Bulgaria. We really have a lot to show the world - our music and our traditions are just as valuable as those of any other greater nation." - commented Sana Alsbey from the Art of Living Foundation, organizer of the event.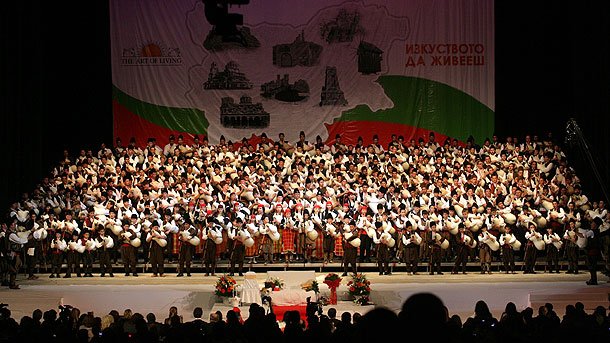 BOOK A TOUR » | BOOK A HOTEL » | BOOK A TRIP »