Home»Do you know? »

The Festival of Petrova niva, Bulgaria on 20 of August 2012
The Festival of Petrova niva, Bulgaria on 20 of August 2012
The Festival of Petrova niva, Malko Tarnovo, Bulgaria, was held on 20 of August 2012 – as the festival is also the congregation day of the grandchildren of descendants of the Bulgarian refugees from Thrace region.
The Thracian Bulgarians refugees is a group in the beginning of 20th century of about 250 000 ethnic Bulgarians, originating from Eastern Thrace, then 1903 part of the Ottoman Empire and Western Thrace so called Macedonia then 1913 part of Greece.
After the persecutions during the Preobrazhenie Uprising and the ethnic cleansing, caused to the Bulgarian population in Thrace after the Second Balkan War and World War I, this people were expelled from the above areas and move to Bulgaria.
Petrova Niva is a historic area in the Strandzha Mountain, Malko Tarnovo municipality of southeastern Bulgaria where, between 11 and 13 July 1903,
a group of Bulgarian Internal Macedonian-Adrianople Revolutionary Organization (IMARO) delegates announced the outbreak of the Preobrazhenie anti-Ottoman uprising aimed at liberating Southern Thrace from Ottoman rule.
Petrova niva is among the 100 Famous Tourist Sites of Bulgaria; a monument to the event was built in the 1950s and a church dedicated to Saint Petka was constructed in 2003 for the congress' centennial anniversary.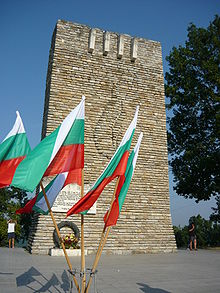 BOOK A TOUR » | BOOK A HOTEL » | BOOK A TRIP »