Home»Do you know? »

Pirin Sings Festival was held on 4 and 5 August in Predela pass
Pirin Sings Festival was held on 4 and 5 August in Predela pass
The 13th Bulgarian Pirin Sings Folklore Festival was held on 4 and 5 August in Predela pass, near Razlog between two majestic mountains, Rila and Pirin. The first edition of the Pirin Sings Folklore Festival was in 1962. There were 385 folklore groups of
with 2500 participants of the Municipality of Blagoevgrad with typical local folk dress and 30,000 visitors and tourists of tours to Bulgaria. The audience greeted also the performers from the village of Dobarsko who competed in the section of the Intangible Cultural Heritage of UNESCO.
The tourists keen on of Bulgarian folklore from UK, Russia, Portugal, Belgium and Holland came over to the folklore festival at Predela, near Bansko. Among them was Mrs. Simone Vandenbussche, a historian and tourist guide from Brussels.
Bernard Dutois, the guide of a tourists group of 31 tourists from Belgium, Holland and France, who speaks Bulgarian, praised the folklore festival Pirin Sings 2012 at Predela pass, Bansko.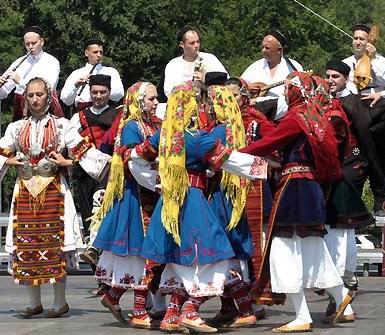 BOOK A TOUR » | BOOK A HOTEL » | BOOK A TRIP »