Home»Do you know? »

A skeleton of a man vampire dug out in Sozopol Bulgaria on 3 of June 2012
A skeleton of a man vampire dug out in Sozopol Bulgaria on 3 of June 2012
A strange skeleton of a man, probably of a man vampire, of 700 years ago was dug out near the Saint Nicolas church in Sozopol Bulgaria on 3 of June 2012 as the Daily Telegraph wrote on 6 of June 2012. The heart of the dead man was stabbed by a big rod.
The skeleton, probably of a man vampire, is exhibited for the tourists of the tours in Bulgaria in the History museum in Sofia. Some archaeologists including Prof. Bojidar Dimitrov, the Chairman of the History museum in Sofia, Bulgaria
believe this skeleton shows a pagan ritual in Bulgaria either to protect a dead man to become a man vampire or against extremely evil man. It is a well-known fact that during the so called Dark Middle Ages
common people had frightened of the most educated and naturally intelligent people who had been considered as witches and vampires. There are speculations of huge impact of tourists of haunted vampire tours to see this miracle.
The peak could be on Midsummer Day, called Eniov Den in Bulgaria, when the day is the longest day in the year. Some superstitious people celebrate this special day as they pick herbs in the very early morning
and dance ritual dances to protect against dark forces. The most known vampire is the Prince Vlad Dracula the Impaler from Transylvania, Romania.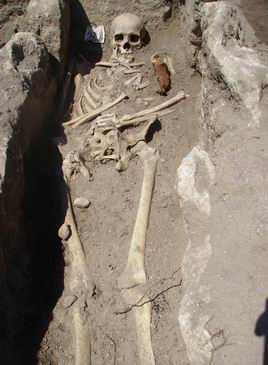 BOOK A TOUR » | BOOK A HOTEL » | BOOK A TRIP »