Home»Do you know? »

A vase with erotic scenes of 6 – 7 century B.C. in Sozopol, Bulgaria
A vase with erotic scenes of 6 – 7 century B.C. in Sozopol, Bulgaria
The archaeologists discovered on 24 of April 2012 in Sozopol, Bulgaria some fragments of a Greek vase with erotic scenes of 6 – 7 century B.C.
Seven naked girls and boys make love in nontraditional sex positions on the fragments of this ancient Greek vase.
Thousands Greek vases were dug out in the lands of Bulgaria but this one is the first with erotic scenes as there are such vases in the lands of Greece.

The ancient Greeks believed making love is a gift from the Gods and for the first time the Christian church determined what is right and what is wrong in making love so the most popular sex position today is called missionary's and all others ways
and positions claimed being perverse and strange ones.
The missionary sex position or a "man-on-top" sex position usually described as the act in which the woman lies on her back and the partners face each other.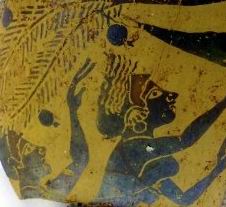 BOOK A TOUR » | BOOK A HOTEL » | BOOK A TRIP »