Home»Do you know? »

Rooms under surface of the old Dacia fortress Sarmizegetusa in Romania
Rooms under surface of the old Dacia fortress Sarmizegetusa in Romania
The Romanian archaeologists claimed to find huge halls and rooms under surface of the remains of the old Dacia fortress Sarmizegetusa in West Romania on 18 of April 2012. The number of the under surface halls and premises were 75.
Sarmizegetusa Regia was the capital and the most important military, religious and political center of Dacia erected on top of a 1,200 meter high mountain.
The Dacia's capital's defensive system includes Six Dacia fortresses — Sarmizegetusa, Blidaru, Piatra Roşie, Costeşti, Căpâlna and Băniţa.
All Six Dacia fortresses were named UNESCO World heritage sites in 1999.

Dacia was invaded by the Emperor Trajan of the Roman Empire and Sarmisegetusa was conquered and destroyed in 105 AD.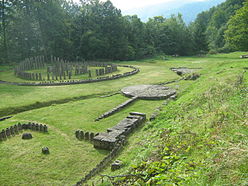 BOOK A TOUR » | BOOK A HOTEL » | BOOK A TRIP »