Home»Do you know? »

A rarely seen golden ring of 6 c. A.D. near Biala, Ruse, Bulgaria
A rarely seen golden ring of 6 c. A.D. near Biala, Ruse, Bulgaria
A rarely seen golden ring of 6 c. A.D. with the rotunda Anastasias over the grave of Jesus in Jerusalem has been found near Biala, Ruse, Bulgaria.
It is exposed for the tourists of the tours in Bulgaria at the History museum on Sofia till the end of May 2012 and after that in the museum in Varna.
Mr. Valery Yotov and Mr. Alexander Mintchev, the Bulgarian archaeologists, said they found there also a basilica church, a holly spring and a home of high clergymen there.
The Roman emperor Justinian then forbade making gold jewelry outside Constantinople and the gold was taken away from the people subjects of the emperor then.
So the Bulgarian archaeologists claimed that the clergymen arguably had got the ring straight from the patriarch then.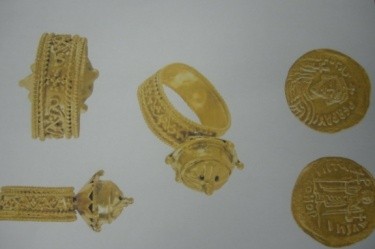 BOOK A TOUR » | BOOK A HOTEL » | BOOK A TRIP »