Home»Do you know? »

The Bulgarian National Radio opened in February 2012 an exhibition The Glagolitic Alphabet
The Bulgarian National Radio opened in February 2012 an exhibition The Glagolitic Alphabet
The Bulgarian National Radio opened in February 2012 an exhibition by artist Pavlin Petrov entitled The Glagolitic Alphabet and Proto-Bulgarian Runes. The event commemorates Saint Cyril and Saint Methodius, the patrons of Europe,
and their contribution to education and the spread of Christianity among Slavic peoples.
The explanatory note under one of the works reads: "The name of the Glagolitic alphabet, also known as Glagolitsa, stems from the word 'glagolati',

which means 'to speak'. In other words, these are the signs that speak.
The first letter "Aza", which stands for the pronoun "I", looks like the Christian cross. According to researchers, the Glagolitic alphabet is a Christian script that comes directly from God.

The monograms of Proto-Bulgarian khans Kubrat and Asparukh were inscribed with Glagolitic symbols. The signs of their Dulo Clan, an ax and a bow, stood for power and might."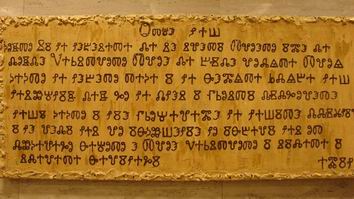 BOOK A TOUR » | BOOK A HOTEL » | BOOK A TRIP »