Home»Do you know? »

UNESCO opened in Bulgaria in 2012 the first Regional Center in Southeastern Europe in Sofia, Bulgaria
UNESCO opened in Bulgaria in 2012 the first Regional Center in Southeastern Europe in Sofia, Bulgaria
Irina Bokova, the General Secretary of UNESCO, opened with Bulgarian ministers the first in Europe Regional Center for the Safeguarding of the Intangible Cultural Heritage in Southeastern Europe in Sofia, the capital of Bulgaria.
It was done following a decision of the 35th Session of UNESCO's General Conference and the subsequent agreement between the Bulgarian government and UNESCO.
The center is on 7, Latchezar Stantchev Street in Sofia and its activities will be coordinated by the Ministry of Culture, the Ministry of Foreign Affairs and the Bulgarian Academy of Sciences.
In the words of UNESCO Director General Irina Bokova, there are only five such cultural venues worldwide – in Japan, China, Korea, Peru and Algeria.

"Bulgaria has already recorded two masterpieces in the Representative List of the Intangible Cultural Heritage of Humanity – these are the Bistritsa Babi, an amateur folk group of elderly women presenting the archaic polyphony
and ritual practices from the Shoppe region, and the second is the Nestinari firedancing – a message from the past", Mrs. Bokova said at the opening of the center in Sofia.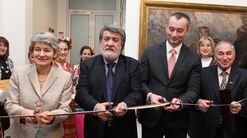 BOOK A TOUR » | BOOK A HOTEL » | BOOK A TRIP »