Home»Do you know? »

The exhibition of the Bulgarian archaeologists of 2011
The exhibition of the Bulgarian archaeologists of 2011
The exhibition of the newly found objects of the excavations of the Bulgarian archaeologists of 2011 was opened including for tourists of tours to Bulgaria on 14 of February 2012 till 1 of May 2012 in the Archaeology museum in Sofia.
The artifacts were from early Paleolithic period till the Renaissance from the 305 places of archaeology excavations in Bulgaria in 2011.
Among them were the objects from the Neolithic settlement at Yabalkovo, gold jewelry and bronze tools from 1000 - 2000 years B.C. at Svishtov, burial tombs from early bronze period at Sliven, the necropolis of the time of the Roman empire at Borissovo,
the objects from the Roman town of Serdika at Sofia, the objects of the old Bulgarian capitals Pliska, Preslav and Veliko Tarnovo, including the wall painting at the Veliko Tarnovo dated 15 century.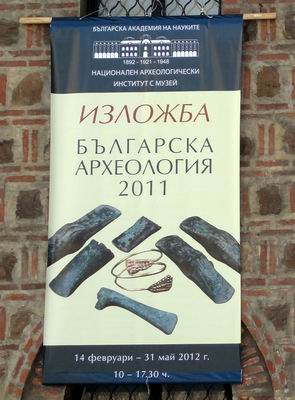 BOOK A TOUR » | BOOK A HOTEL » | BOOK A TRIP »