Home»Do you know? »

The Rock Monastery of Bassarbovo, Bulgaria
The Rock Monastery of Bassarbovo, Bulgaria
The Monastery of Bassarbovo is the only acting rock monastery in Bulgaria. It is about 10 km south of Rouse, near the village of Bassarbovo, in the rocks by the Rousenski Lom River.
The Monastery of Bassarbovo was mentioned in a register from the 15th century.
Over the years the monastery had repeatedly been destroyed and rebuilt.
In the courtyard of the monastery there is a well with curative water.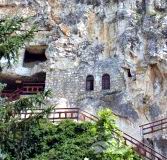 BOOK A TOUR » | BOOK A HOTEL » | BOOK A TRIP »