Home»Do you know? »

Clay vessels of 1600 – 1100 years B.C. in Kypra, Varna, Bulgaria in 2011
Clay vessels of 1600 – 1100 years B.C. in Kypra, Varna, Bulgaria in 2011
Some ancient clay vessels dated of 1600 – 1100 years B.C. of the late bronze era were dug out from a man during construction in his own property in Kypra, Varna, Bulgaria on 18 of November 2011.
The ancient clay vessels were well preserved and some of them look similar of the shape of cups of the famous gold treasure of Valtchitran, Bulgaria dated 13 century B.C.
The 3000 years old clay vessels are in the local museum in Devnya, Bulgaria.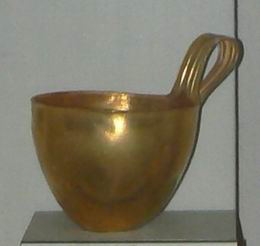 BOOK A TOUR » | BOOK A HOTEL » | BOOK A TRIP »