Home»Do you know? »

Old anchors of the XV-XII century BC at Sozopol, Bulgaria
Old anchors of the XV-XII century BC at Sozopol, Bulgaria
Several old stone anchors were discovered by divers of the underwater expedition of the National History Museum of Bulgaria in the ancient port located west of the island of Kirik and Julita near Sozopol,
, the officer from the museum announced on 12 of September 2011.
Forms of anchors show that they are used in the XV-XII century BC by the Cretan, Mycenaean, Phoenician and Kariean sailors in the age before the Trojan War.
Until now it was thought that the earliest Mediterranean sailors in the Black Sea were the Greeks sailors who entered the Black Sea during the XII century BC.
The anchors are from solid limestone with beautiful forms and they have drilled two or three holes.
In one hole the hawser was passed and another hole wooden stakes that were seized at the bottom of the sea and they stopped the ship.
Each of them weighs 200 kg and apparently belonged to ship vessels of large capacity for the time of 150 - 200 tons.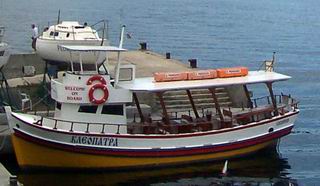 BOOK A TOUR » | BOOK A HOTEL » | BOOK A TRIP »