Home»Do you know? »

An iron axe labrys in Bulgaria
An iron axe labrys in Bulgaria
A double-edged iron axe labrys was found from the archaeologists at Kozi gramadi peak in Sredna Gora Mountain in Bulgaria on 5 of July 2011.
The axe labrys was found at the main gate of the Thracian ruler's palace.
The axe labrys has length of 22 sm.

It is believed the axe was used in ceremonies rather than in battles and wars in 4 century BC.
A similar axe labrys was painted on the walls of the famous Thracian tomb Alexandrovo.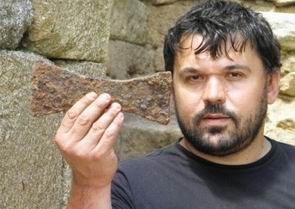 BOOK A TOUR » | BOOK A HOTEL » | BOOK A TRIP »