Home»Do you know? »

Fish of 200 million years old near Sofia, Bulgaria
Fish of 200 million years old near Sofia, Bulgaria
A fossil of an unknown predator fish species, which is believed to be 200 million years old, had been found by workers during the construction of Bulgaria's Lyulin Highway on 29 of September 2010.
The Lyulin Highway, between Sofia and Pernik, was opened on 15 of 2011 with length of 19 km and a record high number of 26 pieces of technical road equipment.
The rock containing the fish fossil was dug out and is already on display in the Regional History Museum in the city of Pernik.
The fossil is 58 cm in length and it was found at 10 meter depth in the soil.
Geological data shows that the body of water – and respectively the fish – existed in the region during the Triassic period, 250-200 million years ago.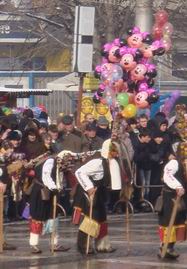 BOOK A TOUR » | BOOK A HOTEL » | BOOK A TRIP »