Home»Do you know? »

Rose Festival Tour 2011 in Kazanlak, Bulgaria only on 05 June 2011
Rose Festival Tour 2011 in Kazanlak, Bulgaria only on 05 June 2011
Groups of tourists come to Bulgaria for the Rose Festival Tour in Kazanlak, Bulgaria only during week time when roses blossom on 05 June 2011.
Experience the old Rose petals picking ritual with rose-pickers dressed in colorful national costumes dancing to the rhythm of Bulgarian folk music to glorify the first Rose blossoms in the same rose fields near Kazanlak, Bulgaria.
Touch the world famous oleaginous rose color rose of Bulgaria that produce expensive rose oil.
Join the rose fest in the city center of Kazanlak and the city rose carnival parade with the Queen of Roses.

Try barbecue rose fest lunch with typical Bulgarian dishes and Bulgarian wine.
Visit the replica of the ancient Thracian Tomb of Kazanlak from the 4 century BC – World Heritage site of UNESCO in Bulgaria.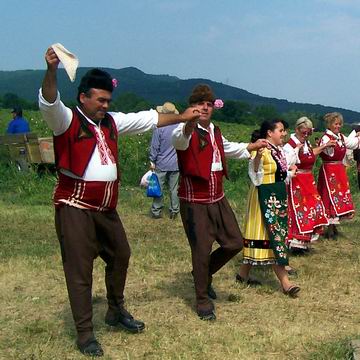 BOOK A TOUR » | BOOK A HOTEL » | BOOK A TRIP »