Home»Do you know? »

An Arab coin dirham of the siege of Constantinople in 718
An Arab coin dirham of the siege of Constantinople in 718
The exhibition of the archeology finds in Bulgaria in 2010 has been opened in Sofia till 30 of April 2011.
The tourists of tours of Bulgaria can see among the objects in the exhibition these from the graves of the first Bulgarian nobles from 7 till 9 century at the necropolis at Topola near Dobritch at North East Bulgaria.
These were ceramics vessels and an Arab silver coin dirham of 8 century AD, an evidence and a memory of the grand siege of Constantinople in 718 where the unite European troops and Bulgarian Khan Tervel, called the Savior of Europe, hold on the invasion of the Islam in Europe by 6 centuries.
The gold ear ring with two headed eagle of a noble lady of the time of Tsar Ivan Shishman and a silver gold plated ring seal with griffin, a symbol of Tsar Michail Shishman of 14 century, were presented also at this exhibition.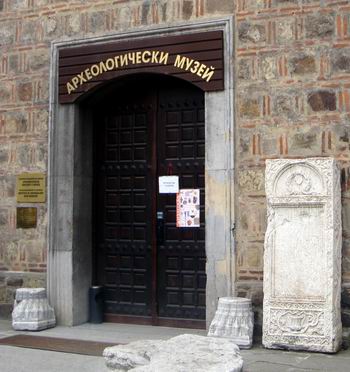 BOOK A TOUR » | BOOK A HOTEL » | BOOK A TRIP »