Home»Do you know? »

Roman walls of Troyan, Bulgaria in 2010
Roman walls of Troyan, Bulgaria in 2010
Roman walls that fenced a military camp of Romans dated 2 century AD were discovered near Troyan, Bulgaria in 2010.
The archaeologists also found the fort's moat which was believed to be two meters deep and five meters wide.
Near the Roman wall the tourists of tours of Bulgaria possibly can view the preserved part of the Roman fortress which consists mostly of the upgraded wall constructed in the 3 century.
Similar Roman fortresses were built on four other places in today's Bulgaria.
They were Oesqus or today's Gigen, Novae near today's Svishtov, Augustae at today's Charletz and Kozlodui and Ratiaria at today's Artchar.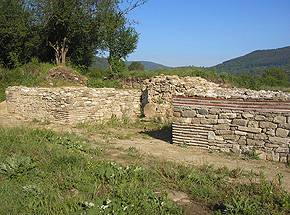 BOOK A TOUR » | BOOK A HOTEL » | BOOK A TRIP »