Home»Do you know? »

Kotooshu a Bulgarian sumo wrestler
Kotooshu a Bulgarian sumo wrestler
Kotooshu or Kaloyan Mahlyanov is a Bulgarian sumo wrestler, the first Bulgarian to compete in sumo's highest ranking. He was born on February 19, 1983 in the city of Veliko Tarnovo.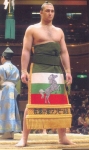 Kotooshu celebrated his 27th birth-day in 2010. In 2000 he was declared the best in Europe at his age up to 100 kg of weight. In March 2002, with the name Kotooshu, he made his debut in the professional dohyo.
In March 2003 the Bulgarian injured his knee and was advised not to participate in the competitions but he did on his risk. Up to September 2003 he passed the 5th and 4th division – Jonidan and Sandanme.
Thus Kaloyan Mahlyanov received the right to compete in the Makuuchi ranking. In 2004 he became a Juryo and was given the title sekitori. Just for a few competitions he made his way from Jonokuchi to Juryo. In the end of 2004 he was included among the 42 top sumo wrestlers.
In 2005 he got the title Komusubi and not later – Sekiwake, and in December the same year he was already an Ozeki. Kotooshu is translated from Japanese as the European koto. Koto is a traditional Japanese musical instrument with 13 strings.
The names of all the wrestlers in the Sadogatake Club start with Koto. Kotooshu was declared a top 1 sportsman of Veliko Tarnovo district. As he is quite handsome the Japanese audience calls him "David Beckham of sumo".
Some tour operators in Bulgaria make tours to the house of Kotooshu in Djuliuniza, Bulgaria.
BOOK A TOUR » | BOOK A HOTEL » | BOOK A TRIP »