Home»UNESCO Sites »

Rila Monastery
Rila Monastery
It is probably the most famous UNESCO site in Bulgaria. Founded in IX century by the hermit St. Ioan of Rila, situated in the highest mountain on Balkan Peninsula, the monastery will impress you with its unique architecture,murals and icon collection.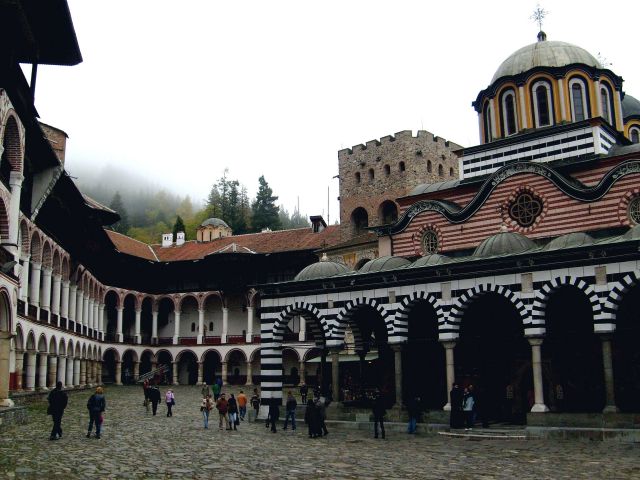 Rila monastery is the largest in Bulgaria. It was found in IX century by the first Bulgarian hermit St. Ioan of Rila. The hermit lived in a cave near the monastery's location. His following and students built a monastery later. St. Ioan Rilski is considered as a guardian of Bulgarian state. He was very reputable person. He treated people and preach the God's wisdom. Even Bulgarian tzar Petar I (927-968) met the saint and made a bow to him.
In the middle ages the monastery became the spiritual and cultural centre of Bulgarian Kingdom. Many books were written there, translated in Bulgarian language and rewritten by monks. The monastery was supported and donated by many Bulgarian kings and rich people. One of them was a local feudal lord-Hrelyo Dragovol who rebuilt the monastery at its present place and turned it into a fortified and imposing architectural complex. One building left from that period- Hrelyo's Tower (XIV c.)
During the Ottoman rule the cultural and literary life in the monastery decreased but it didn't stop. The monastery was the keeper of Bulgarian traditions and faith. It was the center of Christianity. One of the first Bulgarian schools was opened there (of so called monastery-schools type).
Unfortunately a fire destroyed a big part of the monastery in the end of XVIII c. But very soon it was restored and new buildings were made. Rich Bulgarians from all over the Bulgarian lands supported the monastery in the period of National Revival. Soon it got the look which we could see now.
BOOK A TOUR » | BOOK A HOTEL » | BOOK A TRIP »